Screening of 'Soufra' documentary brings Susan Sarandon and Ben Stiller to the Beirut Digital District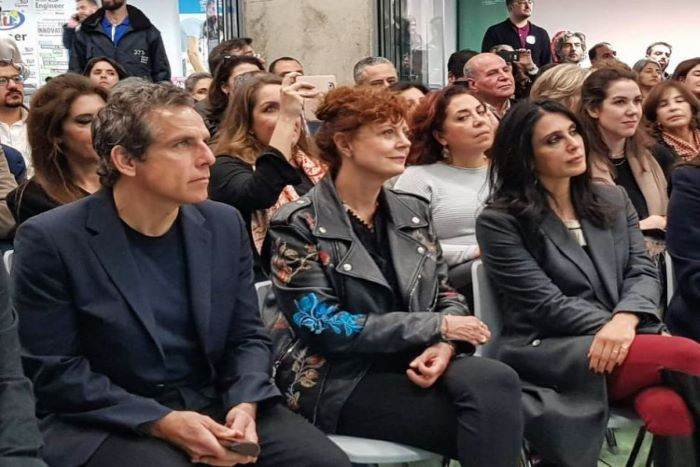 It's not every day that renowned celebrities are in the heart of Beirut, in support of a local initiative making international headlines. On Monday evening, the Lebanese premiere of 'Soufra', a documentary by Thomas A. Morgan, had Susan Sarandon, Ben Stiller and Nadine Labaki front row and center, as the humble story of a catering unit, headed by refugee women unfolded, frame after frame at the Beirut Digital District.
Artistically depicting the story of the first foodtruck, wholly owned and run by female refugees in Lebanon, 'Soufra' is the brainchild of social entrepreneur, Mariam Shaar. Following numerous discussions amongst women in the Burj Al Barajneh refugee camp in Beirut, Shaar was determined to uncover ways which women could use their skills to seize opportunities beyond the confines of the camp. Her survey results showed that the majority of women wanted to improve their cooking skills. From this point on, a catering unit was set up by the Women's Program Association (WPA), supported by Alfanar, the Arab region's first venture philanthropy organization.
An initial pilot project was launched, combining business support and seed funding, to help finance the creation of this new catering unit. Today, after years of hard work and international backing, 'Soufra' has created hundreds of jobs, and is well positioned to offer catering services for a multitude of functions, leaving a profound impact on the women involved in it, with each dish served.
The compelling story of Shaar, a refugee herself, and other women refugees which make up 'Soufra', caught the attention of Sarandon, who served as the Executive Producer on the documentary, directed by Morgan. Stiller attended in his capacity as a UN Goodwill Ambassador, in a show of support. Also in attendance was Her Excellency Australian Ambassador to Lebanon Rebekah Grindlay.
During their visit to Beirut, Sarandon and Morgan also delved into the heart of the culinary action, visiting the Burj al Barajneh camp, to witness the education and empowerment of women, who are part of the 'Soufra' movement. Their trip also included visiting the newly opened Nawras Preschool, part of Alfanar's social investment, to provide crucial early childhood education to 75 at-risk children in the camp each year.
Alfanar's Country Director in Lebanon, Michelle Mouracade expressed her gratitude and shed light on the support system which has facilitated the realization of these projects. "As a venture philanthropy organization, one of the most important things we do is provide mentorship and introductions to our network, to the social enterprises that we fund. We wouldn't be able to achieve so much, if it were not for the amazing ecosystem that supports us in everything we do. And for that, we are really grateful."
Shaar continues to lead 'Soufra' forward, through her role as Executive Director of the WPA, to provide education, vocational skill training and microloans to women in the camps, contributing to their overall wellbeing, growth and productivity.
'Soufra', which means 'dining table' in Arabic, has inspired the hearts, minds and palates of many.
The screening of the documentary will soon compel international audiences to make a difference, despite challenging circumstances.
To learn more about Alfanar's growing social philanthropic impact, visit: http://www.alfanar.org.uk/
The 'Soufra' foodtruck was initially launched at the Beirut Digital District.
Networking
Event
Culture