BDD has long served as the creative, digital and entrepreneurial hub in Lebanon, bringing together likeminded companies and individuals working on inspiring projects. With offices for rent and common spaces to host meetings and events, BDD's community also includes co-working spaces and flexi desks that are in high demand.
The desk rental options available at BDD
BDD offers two desk options – professionals can opt to rent a dedicated desk (monthly subscription) or a flexi desk, with all the benefits included.
All "+" Packages include free meeting room hours along with a printing quota and an additional 50% discount on meeting room hours
The flexi option includes per day options (1 day, 8 days, 12 days and 1 week) as well as a full month.
All Types of subscribers have access to all facilities around BDD (the gym, the lactation room, garden, common areas, eateries and more)
View the available co-working packages here.
Flexible co-working options for rent at BDD
What makes working out of BDD unique, is the fact that co-workers can work out of different buildings, making working long hours less mundane. Often, professionals move between the different spaces, working out of the garden for inspiration, take a walking break around the community, or head to the gym. They can buy food and coffee from Café Younes or the Food gallery at all hours. They can also have a quick ping pong or baby foot match – tying into BDD's brand promise of Work. Live. Play.
"We are a campus versus a co-working space," says Kim Mouawad, Community Relations Manager at BDD. "Co-workers also have an opportunity to network with other professionals from similar or complementary fields," she adds.
Part of the growing community are freelancers, founders of startups, vloggers and those escaping from the work from home dynamic.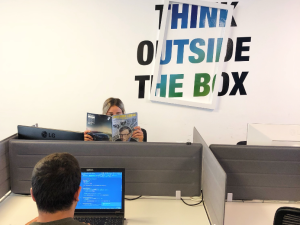 Advantages of working out of BDD                                                                                                
Here is a list of what BDD provides, with every co-working subscription:
A central, cost-efficient office location
Smart buildings, with high speed internet
A vibrant community
Bottomless coffee, even after the fourth cup of the day
A gym and fitness classes
A lactation room for the mothers
F&B Outlets, with on-site vending machines for those unexpected cravings
A green environment, with integrated garden spaces
A simple way to navigate, book and stay in the know, with the BDD app (users can order food, report an issue, chat with other community members, book meeting rooms and event spaces, check events around BDD, door access to buildings, etc. through the App)
Network, brainstorm and make friends (this happens naturally at BDD)
"We're often told that there's a very positive 'vibe' here at BDD and that people feel sheltered from the reality outside," comments Kim.
Due to ongoing challenges in Lebanon, from lengthy power cuts, choppy internet connections that interrupt every call and a somewhat dampened work vibe, professionals are on the lookout for a place to work without all the disruptions. Based on all these factors, BDD has been receiving a huge inflow of queries regarding the co-working spaces.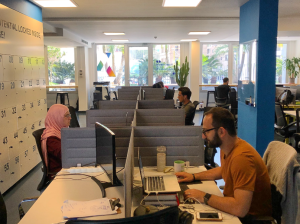 Boasting a large community, with numerous shared and common spaces, BDD's team has been working around the clock to accommodate many of these requests. Equipped with high speed internet, electricity and fully operational buildings, the co-working spaces provide flexibility and connectivity, allowing professionals to focus on the work itself.
Book your space here.