When we think about entrepreneurs in Lebanon, those in tech or services come to mind. But what about the owners of guesthouses across the country, who took a leap of faith, and opened up their historical family homes to the public?
The story of Dar Zefta, in the South of Lebanon is one that comes to mind. Nestled in a magical home dating back to 1911, Dar Zefta was where the el Darwiche family grew up and created memories. In 2014, Bahjat el Darwiche, grandson of the late Hussein Beik el Darwiche, took it upon himself to completely renovate the home, and turn it into a boutique guesthouse. Inspired by his 35 years of traveling the world and visiting beautiful escapes, he was keen to design Dar Zefta with utmost comfort and easy living in mind. Today, he welcomes guests into his own home, extending Lebanese hospitality with every visit.
Initially designed and built by Italian and local architects, Dar Zefta retains Lebanese tradition in its soul. It also combines 100 years of interior design, from early century art nouveau to mid-century and seventies iconic pieces, to modern designers and artists' creations.
"By welcoming guests into my own home, it was important for me to retain a sense of tradition, evident in the design, whilst also offering ultimate comfort in a graceful atmosphere," shares el Darwiche. "As Lebanese, we are deeply rooted, yet are also global citizens, and these two contrasts blend seamlessly throughout Dar Zefta," he adds.
For guests experiencing Dar Zefta, the positive energy that emanates from the space, the way the light and the sun fill the house, the fusion between the gardens and the interiors, the variety of areas one can enjoy, along with the personalized experience guests receive, is what defines Dar Zefta's unique character. It is indeed a place where every detail was thought through, to make the magic happen for the owners and their guests.
"Part of our mission at Dar Zefta, is to encourage people to visit the South, and discover a stunning region yet to be known for many," el Darwiche shares. "The majority of our guests (over 70 percent) visit the South for the first time, knowing that we are located less than 60 Km away, or a one hour drive from central Beirut," he adds.
When inquiring about his entrepreneurial journey, we asked him what opportunities there are for guesthouse owners in Lebanon.
"We find there is a growing interest in local tourism, where Lebanese people and visitors are on the search for local authentic experiences," he explains. "Besides, when you are the one welcoming your guests, you get to meet very interesting people, and create very enriching connections and friendships."
Guests enter Dar Zefta, to "slowdown, disconnect, daydream," shares el Darwiche.
Adding that, "There is so much peace and inspiration emanating from every corner of Dar Zefta, from the art work, the library, the pine garden, the olive garden, our diwan, our jungle and the memory room. There is something for everyone to experience."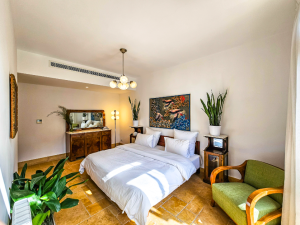 Beyond the guesthouse, el Darwiche and his team contribute to the social and economic development of the community around them. They serve the freshest local produce, with authentic homemade cuisine, and support women and youth employment. They have also carefully planned activities for guests to enjoy, such as an itinerary of 18 ateliers d'artistes across the South, trekking along the Zahrani river among orange trees, the nearby beaches of Sour and Naquoura, and the amazing forests of Jabal Safi, Aytouleh, and Bkesine.
With the rise of guesthouses across Lebanon, every entrepreneur behind them strives to succeed. For Dar Zefta, el Darwiche shares that "building personal connections with guests in our own home, offering tailor-made experiences, and being on a continual quest to have a positive impact on the community," are what makes it unique.
Explore Dar Zefta on its website here, and book your Southern getaway directly on @darzefta,  or through Hote Libanais, here.