The entire world has changed course over the past year and a half. Education is one such area that continues to transform at an exponential pace. Children have spent more time at home than ever before, moving from vibrant classrooms to being seated behind a screen. As schools start to open their doors again in some parts of the world, the way academia is being approached, has also changed dramatically.
Taj Abou Harb (TAH), Founder of Montessori Beirut, shares why it is more important than ever before to "follow the child." In this interview with Taj, she shares the tools and skills that children need to navigate in today's world, and what parents can do, to nurture the authenticity of their children.
BDD: What were the driving factors that led to the founding of Montessori Beirut?
TAH: My daughter. When I was pregnant with her I considered homeschooling, because I wanted to avoid the harmful effects that generally accompany traditional schooling models. My research led me to 'alternative schooling.' As I educated myself, I was drawn to the Waldorf method and the Montessori method. I found that the Waldorf method is more creative and artistic, while the Montessori method is more scientific and mathematical. This immediately caught my engineering eye. ultimately, Montessori Beirut was founded for my daughter and all the families in Lebanon who share my passion.
BDD:  What age groups do you welcome? And what are the types of classes/activities that you provide?
TAH: We welcome children starting at the age of 2.5 years (provided they are diaper-free) and up to 12 years of age. We teach all the basic academic subjects but our methodology is different. The learning experience at Montessori Beirut is hands-on and formulated to fit the needs of the child at their current stage of life. In addition, children learn life skills such as sewing, baking, embroidering, cleaning, planting and taking care of themselves and their environment. These are some of the skills we believe are important to nurture them and shape them as adults.
BDD: Can you elaborate on the child-focused approach that you adopt?
TAH: Dr. Montessori often encouraged and wrote about the concept to "follow the child". We are constantly observing the child's innate thirst for knowledge. Our responsibility is to support that desire for knowledge by offering material and lessons that take into consideration the child's developmental stage, learning pace, and interests.
Children are born knowing who they are and who they will be, it is our job as educators to help them discover it and to help them preserve and protect this drive. Our classes are composed of mixed ages and therefore the curriculum follows each child without the pressure or restrictions of where they 'should be'. Dr. Montessori said that children learn to read and write the same way as they learn to walk and talk, they don't need anyone to teach them, they just need to be given the time and space, and environment to do so.
BDD: It is interesting that Montessori Beirut adopted a nonprofit model. Can you tell us  a bit more about that?
TAH: We understand that in the current situation in Lebanon, our school is not accessible to all. The main reason for this is the significant cost of international Montessori training for our staff and the cost of high-quality Montessori material. That being said, Dr. Montessori started her school for the underprivileged community and we believe that this is the only way to provide real change in society. Therefore, we have been collaborating with Association Montessori International (AMI) and Educators sans Frontiers (EsF) and an NGO (that is in the final stages of government approval) called 'Montessori Education for Development' to provide training courses and hopefully start Montessori schools in rural areas as well as refugee camps.
We have given two orientation courses so far at highly discounted rates, which we plan to continue. We are also planning to offer teacher training in our schools to help the spread of the Montessori model across Lebanon.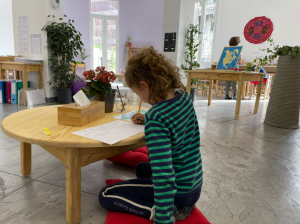 BDD: Alongside your unique learning method, how do you foresee the realm of education changing in the coming years?
TAH: We hope to see alternative education being offered more widely, with more participation in workshops and training programs as well as a general shift towards more respectful and gentle parenting and teaching. As I see it, these changes are happening all over the world and we are bound to follow.
BDD:  What are the most vital tools that children need to navigate the world in which we live?
TAH: Life changes at an incredibly rapid speed. Schools can't continue to provide knowledge that might be obsolete next month, week, or even day. Any person with a smartphone and an internet connection can learn anything from cooking to quantum physics. Therefore, the most vital tools are personal and social skills. We must help our children discover who they are, how to understand and regulate their feelings and emotions, and how to collaborate and communicate with others.
BDD: For children learning in Lebanon, what advice do you have for their parents, given the circumstances in which we are living?
TAH: It is harder said than done, but what we truly need to do is spend time with our children, get to know who they are, what they like and dislike, what makes their eyes sparkle. Children don't need money, they need time, attention, and lots and lots of patience.
BDD: We love that you are situated in BDD. How does that contribute to your growth/success?
TAH: Being part of the BDD community has been one of our greatest elements of success. We are surrounded by like-minded individuals who inspire us. The support we have gotten from the BDD community has been incredible. I am very thankful and proud to be part of BDD.
To learn more about Montessori Beirut and the unique internationally acclaimed teaching method, visit https://montessoribeirut.com/